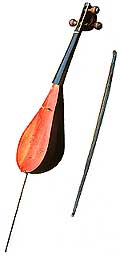 Chagana
Maker - M.Kerimov.
Baku. 1982
The chagane is a four-stringed instrument (photo 26) that was used in Azerbaijan up until the end of : the 19th century. The Russian artist G. Gagarin, who visited Azerbaijan in the first half of 19th century, depicted the chagane in his work "Shamaha Dancers".
Information about this instrument appears in the works of Gatran Tabrizi, Imadaddin Nasimi, Seyid Azim Shirvani and many other classical poets. The chagane has a pear-shaped body, a neck and a head. This reconstructed instrument was presented at a scientific symposium in Edinburgh, Scotland in 2000 and made a significant impression on the participants at the symposium.
The oblong body of the chagane consists of nine parts. It is assembled from pieces of nut wood, sandalwood and beech. The body and neck of the instrument are connected with a long iron probe that goes from the bottom part of the body and plays the role of a core. The face of the body is covered with a five-mm-thick sounding board made of pine. Resonator apertures are bored through this board. During the performance, the instrument is held in a vertical position, and the probe rests on the floor. The sound is produced with a bow that is held in the right hand.
The total length of the instrument is 820 mm. The body is 420 mm long, 220 mm wide and 140 mm tall. Its range goes from the "fa sharp" of the great octave to the "fa sharp" of the second octave.