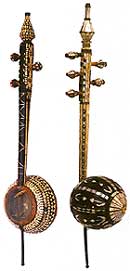 Tree-stringed kamancha
Azerbaijan History Museum.
The 19th c.

The kamancha is played with a bow. It is widespread amongst Eastern and Central Asian peoples under a variety of names. In Azerbaijan, the kamancha reached a high level of development starting from the second half of the 19th century. This is closely connected with the development of the khanande art.
Earlier kamanchas were made of pumpkin and the wood of nutmeg and decorated with ivory.32 The one-stringed and two-stringed versions of the kamancha are thought to be descendents of the gopuz played with a bow. The kamancha is described in the works of medieval classical poets. Mir Seyid Ali, representative of the 16th-century school of painting, depicted the barbat, daf and kamancha in his work called "A Musical Gathering".
Abdulgadir Maraghayi mentioned the kamancha in his works. E. Kaempfer, a German traveler who visited Azerbaijan in the 17th century, noted that the kamancha had three or four strings and a fine timbre. Nizami Ganjavi described the kamancha in his "Khosrov and Shirin":
The Kaman is moaning like Moses
And is listening to the singer while he is singing.
The singer started a beautiful gazal
And praised this feast.
Kamancha,
decorated with mother-of-pearl
The State Museum
of Azerbaijani Musical Culture.
The 19th s.

In the 20th century, there were three-stringed, four-stringed and even five-stringed kamanchas. There is a 1 9th-century five-stringed kamancha preserved in the ethnography fund of the Azerbaijan History Museum. The kamancha that belonged to Zulfugar Hajibeyov, a well-known Azerbaijani composer, is also exhibited in this Museum. The body and the neck of this three-stringed kamancha are tastefully decorated with mother-of-pearl. The body of the instrument is horizontally cut in the middle and covered with leather.
The kamancha consists of a head and neck and a spit that passes through the head and connects the two parts. The body, head and pegs are hewed out of a nut tree with thehelp of a special device. The open front part of the instrument is covered with sturgeon skin. The sound quality of the instrument depends on the distance between the neck and strings. The total length of the instrument is 700 mm. The body is 175 mm tall and 195 mm wide.
The kamancha's range is from the "la" of the small octave to the "la" of the third octave. The scores for the instrument are written in the "sol" clef (treble clef, or G clef) and the instrument is played one tone higher. It is tuned in perfect fourths and fifths.
Kamancha,
covered with silver
K.Sultanov's private collection.
Nakhchivan. 12th c.

Kamancha,
decorated with carvings
Maker -M.Kerimov .
1998. Baku.