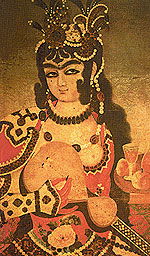 In terms of variety and geographic range, string instruments occupy an exceptional place in Azerbaijani musical culture. There are various legends recorded in written sources about the appearance of string instruments. According to one legend, the guts of an animal that had been torn to pieces by an eagle fell out and hung from tree branches. After some time, the guts, which had dried and stretched over the branches, began to produce various musical tones caused by the wind.
This supposedly prompted ancient people to invent string instruments. One part of this legend is verifiable: we do know that the strings and frets of early instruments were made of animal gut, and that the body, neck and head were made of wood.
Numerous string instruments have passed through centuries of evolution and survived until the present, often having an impact on the creation of new instruments.
Azerbaijani string instruments are divided into four types according to the way they are performed:
1. Instruments played with a plectrum-tar, saz, ud, canun, barbat, rud, rubab, gopuz and choghur
2. Instruments played with a bow-kamancha and chagane
3. Instruments played with the fingers-chang and Shirvan tanbur
4. Percussion string instrument-santur
.